CLOUD-BASED TEST AUTOMATION PLATFORM FOR CONTINUOUS TESTING IN AGILE & DEVOPS
Simple and Powerful NLP Based ,end to end test automation solution
Scriptless Functional Automation
Simple deployment, Hundreds of built-in programs, Actions.
Inbuilt rich NLP library to handle almost all complex scenarios.
Automation is made easier with just simple English without the need for programming skills
Enable manual test engineers to automate so that their deep product knowledge and domain expertise can be utilized effectively.
What can be automated?
It's a one stop solution for all your automation needs.
You can plan for automating your Web Applications, Native Android iOS Applications, Web Services , Unit / White Box and Database testing without spending a lot of time in configuring all the needed technologies.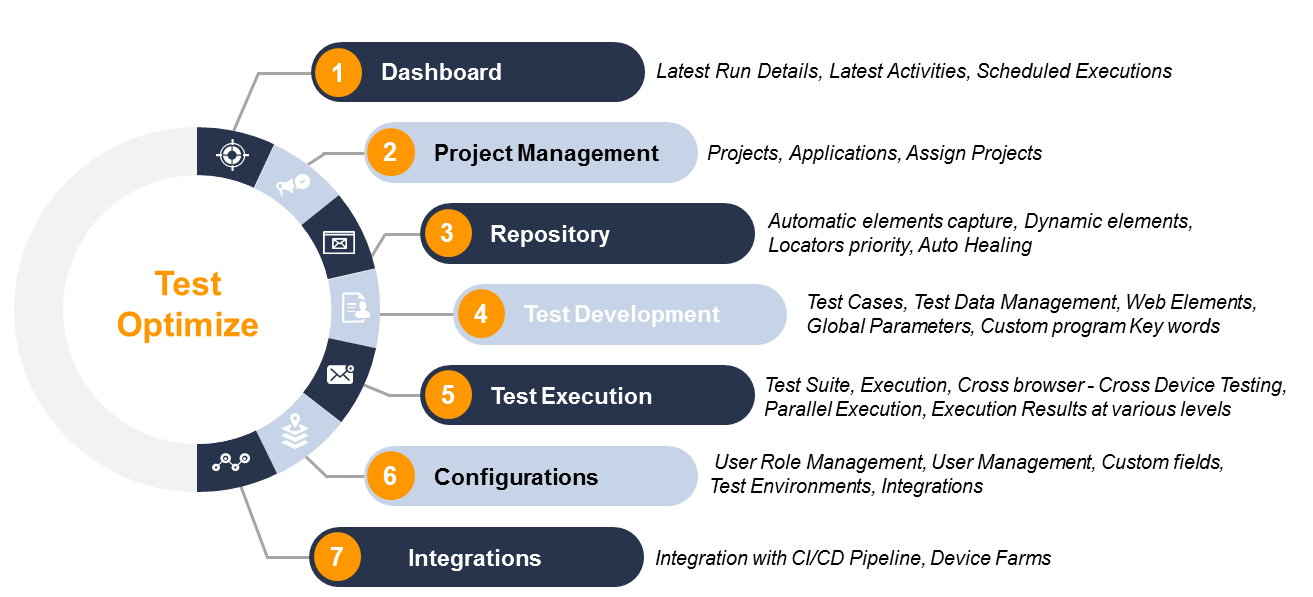 Key features
Web Application, Mobile App, Web Services / API, White Box, Unit Testing and Data Base Testing
Single script can contain steps to automate Web Application, Mobile App and API.
NLP based

Inbuilt NLP for Excel, Property files, JSON, XML
Build Custom NLP

Automatic dependency Management
Test Step group to address reusability
Just in time and user friendly result – speeds up debugging
Easy publishing option
Perfect blend of most popular frameworks like

Data driven framework
Modular driven framework
Keyword driven Framework
Hybrid driven framework
TDD
BDD
Technology Integrations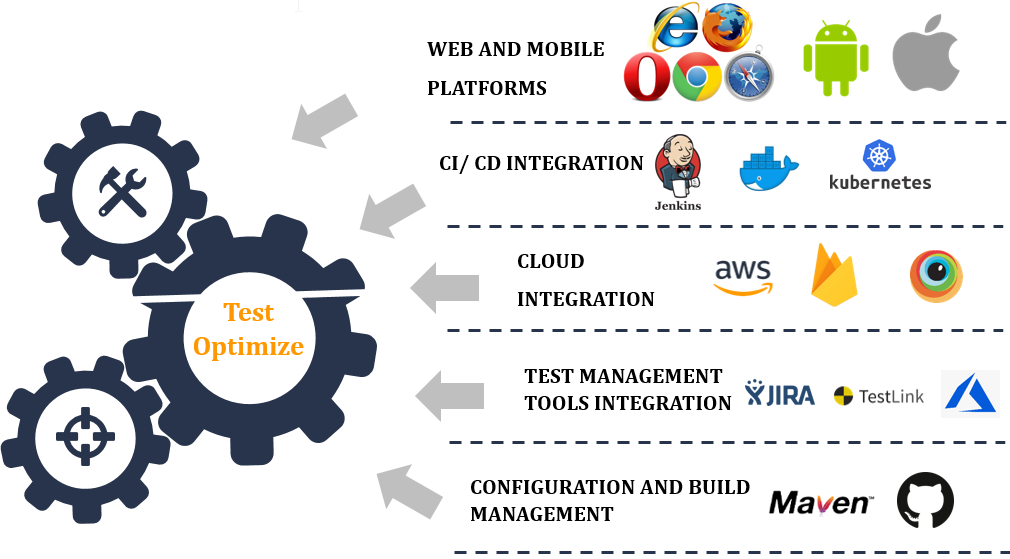 UNIFIED CLOUD PLATFORM
Unified cloud platform for Web, Mobile Web,Android Native, iOS Native apps and Web Services.
Bring all your manual and automation teams together.
Test Automation and effective quality metrics
Increase the reusability and maintainability with Step Groups and Centralized Object Repository.
Deep Integration with Jira, CI/CD & automation tools

TESTOPTIMIZE AUTOMATION STUDIO
Integrate with your Continuous Delivery Pipeline
Streamlines Object Spying and Repository Management
Comprehensive Dashboard and & Reports for informed automated testing
Seamlessly integrate TestOptimize with your agile environment to facilitate faster delivery cycles.
Test your app in different versions of browsers like Google Chrome, Mozilla Firefox, Safari, IE

STANDALONE PLATFORM
With TestOptimize Server, you host TestOptimize Software on your own hardware and customize your setup however you'd like.
This is generally the best option for teams who need to manage all the details, have stricter requirements for data governance, and don't mind the additional complexity of hosting themselves.